Tuesday 4 December, 2012 6:33 am | News,News Releases
First Fuel-Injected CTLSi Flying to Rave Reviews
South Woodstock, CONN. / December 3, 2012 – After a grand introduction of the new fuel-injected 912 iS engine to European and American markets earlier this year, the Austrian engine company is now in full-scale production of the upgraded engine. Flight Design has been working diligently with the new powerplant and upgrades for it; now a group of 912 iS-powered CTLSi aircraft are landing in America.
A lengthy wait is over and the proof is in the flying with Rotax and Flight Design cooperating to bring the new CTLSi to several customers here in the U.S. and throughout the world. Despite the effects of Sandy around New York City, where Flight Design USA Light-Sport Aircraft make landfall, the first of CTLSi aircraft have arrived in the Northeast U.S., Florida, the Midwest, and the West Coast. CTLSi, with the small "i" in the model name designating the fuel-injected engine, is the main attraction at present though the carbureted 912 ULS engine remains available for those preferring this well-proven engine.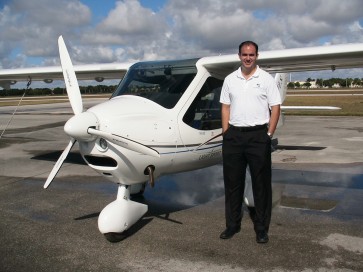 Americana Aviation CTLSi in Miami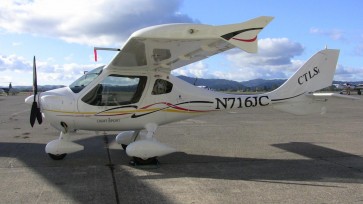 Sonoma Jet Center CTLSi in Califorina
Expectations were high for improved fuel economy – 20% was projected from the manufacturer's testing – along with other improvements. Lone Mountain Aviation president Kenny Scherado said, "We received and assembled one of the first CTLSi aircraft with the new Rotax powerplant. Besides the fuel economy, Scherado observed, "The CTLSi with the 912iS engine runs smoother and starts easier." As with all Rotax engines, 91-octane automobile gasoline works very well at lower cost. The engine can also use 100 LL avgas or can mix either in any proportion.
"We now have several CTLSi aircraft equipped with the Rotax 912iS engine in the USA and more en route from Germany," said Flight Design USA President Tom Peghiny. "Early reports from our dealers across the country are a strong indication of the popularity we can expect from the CTLSi." Peghiny observed that after seven years of importing the Flight Design CT series, the model remains atop the market share list, a position it has enjoyed since the beginning of Light-Sport Aircraft
FACTS ABOUT FLIGHT DESIGN GmbH
Flight Design GmbH is a 25-year-old manufacturer based in Germany. The company remains the worldwide Light-Sport Aircraft market leader thanks to its popular CT series of aircraft. More than 1,800 aircraft are flying around the world and after eight years, CT remains the top-selling LSA in the USA.
As the U.S. importer, Flight Design USA has assembled the largest service center network in the LSA industry. The company has also established a group of Flight Design Pilot Centers to assure quality professional services to students and experienced aviators.